Google Chrome dominates the browser market worldwide with a massive 63% share, leaving the rest to other web browsers. To be honest, Chrome provides an excellent web browsing experience with seamless functioning across multiple devices. However, such a smooth experience comes at a cost, that is, our personal data.
We know that Google tracks us relentlessly, and the onslaught of personalized ads gets really annoying at some point. Even if we keep it aside, there are serious problems like heavy RAM usage that makes your device sluggish. So whatever may be your reason to leave Chrome and seek other options, here is a list of the best Google Chrome alternatives in 2021 for you.
1. Mozilla Firefox Quantum
There used to be a time when Google Chrome had clear speed advantages over other browsers and hence it was hard to recommend any other browser despite its faults. However, that is not the case anymore. With the launch of Firefox Quantum, the beloved Firefox browser has become as speedy as Google Chrome, even beating it in certain metrics. Firefox Quantum has been build from scratch with a new and powerful engine which brings rapid performance. That means users experience faster and better loading times with less consumption of computer memory. Firefox also solves one of the biggest problems we encounter while using Google Chrome browser which is the memory usage.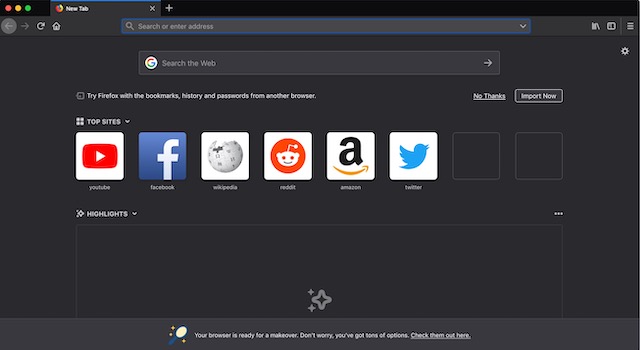 Firefox Quantum is very light on resources and even after opening a dozen tabs at a time, I don't feel any noticeable system slowdown. As per Firefox, the new browser consumes 30% less memory than Google Chrome and while I cannot attest to that number, I have noticed significant improvements. Firefox also brings improvements to the private browsing experience. Not only the browser deletes all your data after your private browsing session ends but it also blocks online trackers which chase you across websites to serve you ads. If you are looking for a Chrome alternative and haven't used Firefox for a while, I urge you to give it a chance. I am sure that you won't go back.
Compatibility: Windows, macOS, Linux, Android, iOS
Download: Free
2. Brave Browser
Brave Browser is currently my favorite browser and I use it for all my needs. The browser has a lot of things going for it. The best part about Brave Browse is that while it's similar to Google Chrome in features and speed, it focuses heavily on privacy. With Brave Browser, you are getting the best of both the worlds. Talking about the features first, Brave Browser is a replica of Google Chrome. Seeing how it's based on the same Chromium engine that Google Chrome uses, it's no surprise. When you switch from Chrome to Brave, you will feel right at home as it has almost the same navigation structure.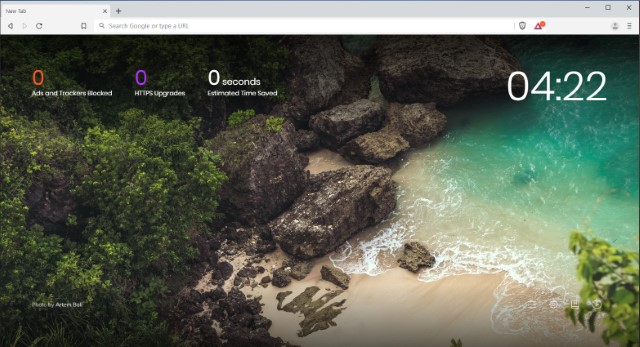 The browser even supports all the Chrome extensions, so you don't have to worry. All that is good but the reason why I am recommending this browser is privacy. Brave Browser comes with a built-in ad and tracking blocker and HTTPS upgrader. That means it will protect you from ads and tracking pixels and nefarious websites without you having to do anything. Times when you want to browse the internet anonymously, you can invoke Brave's supercharged incognito mode which uses TOR to hide your IP. I am using Brave Browser for the past few months and I must say that it's one of the best Google Chrome alternatives on the market right now.
Compatibility: Windows, macOS, Linux, Android, iOS
Download: Free
3. Opera
Another great alternative to Google Chrome is the Opera browser which is based on the same Chromium architecture which Google Chrome uses. What this means is that you will find many features here which are similar to Chrome. That is a good thing as even longtime Chrome users will feel right at home here. Apart from bringing features similar to Chrome, Opera brings its own set of features which make this browser very unique. My favorite Opera feature is the built-in unlimited VPN tool. The tool is not only great when it comes to unlocking region locked content but it also helps in protecting your privacy by making your IP address.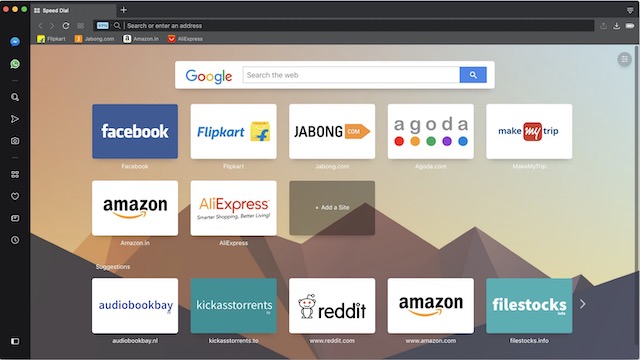 Opera also comes with built-in ad-blocker, thus allowing you to surf the internet without seeing any ads. Another good feature of Opera is the Opera Turbo Mode which when enabled compresses all the data. This results in not only faster load times but also less usage of data making it perfect for users with limited internet data connections. There's also a battery saver mode which makes the browser consume less battery thereby giving you up to 50% more battery life. As you can see, there's a lot of features which can come in really handy, and you should certainly consider Opera if you are looking for a Chrome alternative.
Compatibility: Windows, macOS, Linux, Android, iOS
Download: Free
4. Tor Browser
If you value your privacy over everything else, then Tor Browser is just for you. As I mentioned in the introduction of this article, one of my personal major concern with using Chrome is its data collection policies. With Tor Browser you don't have to worry about any such problem. In fact, When you are using Tor Browser, nothing can track your data and you can surf the internet fully anonymously. The Tor Browser achieves this by bouncing your communications around a distributed network of relays run by volunteers all around the world.
That means if somebody is watching your internet connection they won't be able to learn the sites that you are visiting. Not only that, the browser even prevents the sites you visit from learning your physical location, and lets you access sites which are blocked in your location. Tor is also the browser which lets you access Deep Web but that's not something I recommend that you do if you don't have any knowledge about it. You can get a primer on both Deep Web and Dark Web by clicking on the links. That said, try accessing them at your own risk. The bottom line here is that for anonymous browsing, there is no better browser out there than Tor.
Compatibility: Windows, macOS, Linux, and Android
Download: Free
5. Vivaldi
While Google Chrome is customizable, its customizability has limits. If you want a browser which can be customized to look and behave exactly the way you want it to, you should be using Vivaldi. Vivaldi has become a popular browser in the recent months as it brings a ton of customizability features that no other browser offers. For starters, you can use ultra-customizable themes to give your browser a look that's uniquely yours. Not only that, you can even create a schedule to change your browser's theme throughout the day. The browser also comes with an editable sidebar allowing users to add any website as they deem fit. Whether it's your favorite chat apps, social feeds, or news sites, you can add as many website as you want. You can even rearrange those websites' position by using simple drag and drop tool.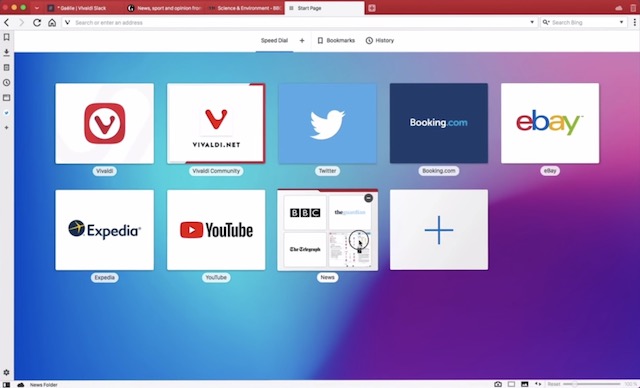 One of my favorite features of Vivaldi is its adaptive interface. Basically, the browser picks up the main color of the website you are viewing and uses it as an accent color. Other features of the browser include the ability to save open tabs as sessions, a built-in fully functional notes extension, excellent keyboard shortcuts and mouse gestures for navigation, and more. The browser also brings extra security for its users as it never tracks or collects user data. Vivaldi is also working on end-to-end encryption of your data while syncing across devices which is supposed to release soon. Overall, I quite like this browser and if you want a browser that gives you control over how it looks and behaves, you should certainly use it.
Compatibility: Windows, macOS, Linux
Download: Free
6. Microsoft Edge on Chromium
Microsoft Edge on Chromium is Microsoft's latest attempt to create a successful browser. After the Internet Explorer debacle and the lukewarm receiving of Microsoft Edge, the company has finally relented to the power of Google Chrome's underlying engine and is now basing its Edge browser on the same. The new Microsoft Edge runs on the same Chromium engine which means it is quite similar to Google Chrome in features, speed, and looks. Currently, Microsoft Edge on Chromium in beta and is supposed to get a full release before the end of this year.
I have been testing the browser for a few weeks now and other than a few bugs here and there, it has been quite stable for me. The best part about this browser is that unlike Google Chrome, it doesn't tax your computer's resources much. Also, since it supports the entire Google Chrome Extensions library, I had no problem in switching to it from Google Chrome. Of course, Microsoft has also baked in features like cross-platform sync using Microsoft account, Microsoft News, and more. The new Microsoft Edge is a similar browser as Google Chrome. I just hope that this version of Edge is not as tracking friendly as the latter.
Compatibility: Windows and macOS (mobile apps coming soon)
Download: Free
7. Torch Browser
If you are someone who downloads a ton of media from the internet and is always looking out for software which can help you do that, how about you try a browser which can help you download everything you want without the need of a third-party software? Well, that's what Torch Browser does and it is pretty good at it. The browser comes with a built-in media grabber which gives you a download button next to videos hosted on any website allowing you to easily download media for offline consumption.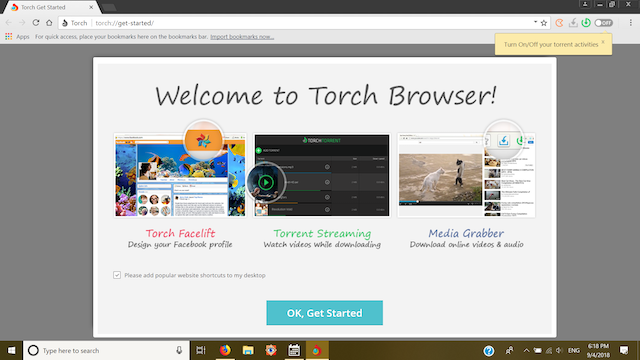 One of the best thing about the Torch browser is that it comes with a built-in media player which allows you to play the videos which have not been fully downloaded. Torch Browser also brings built-in support for torrents allowing users to download torrent files without needing third-party software. The browser also comes with a music extension allowing users to listen to their favorite music without paying anything. Finally, there's a game extension which allows users to play browser powered games for free. Torch Browser is the best browser for entertainment and a worthy alternative to Google Chrome for media lovers out there.
Compatibility: Windows, macOS
Download: Free
8. Safari
If you use an iOS or macOS device, Safari is the best Google Chrome alternative that you can use. Not only the browser is fast but it is also pretty secure. Over the last couple of years, Apple has primarily worked on user privacy features and that has turned Safari into a heaven for privacy concerned users. First of all, Safari automatically blocks ad trackers from following you along websites thereby thwarting their efforts to access your browsing pattern. That means that when you search for shoes on Amazon, you won't be seeing ads for shoes for the next couple of days.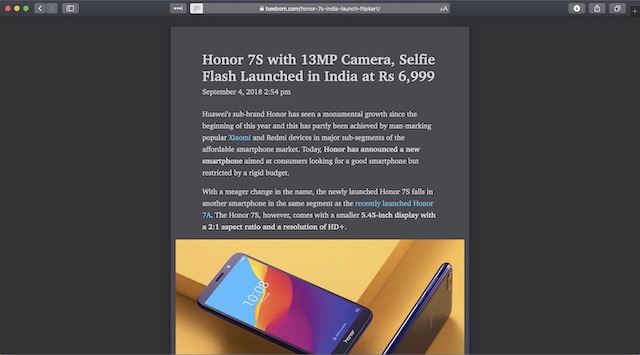 Safari also blocks videos from auto playing on websites. I hate websites that keep auto-play videos on their website as it takes away control from users. With Safari, I don't have to worry about that anymore. One of my favorite features of Safari is its reading mode which when activated removes all the distractions and lets me read articles in a clean user interface. If you want, you can even save articles for offline reading. This feature feels especially useful on iPhone as I don't have to waste my mobile data to read articles. Safari is very speedy, has a clean UI, and syncs astoundingly well across devices which makes this one of the best Chrome Alternatives that you can get.
Compatibility: iOS, macOS
Download: Comes pre-Downloaded
9. Epic Privacy Browser
Epic Privacy Browser is yet another Google Chrome alternative that focuses on the privacy of its users. The web browser includes built-in protection against thousands of tracking scripts, tracking cookies and other tracking agents, ad networks, cryptocurrency mining scripts, dangerous malvertising, and third-party widgets. As per their website, on an average, the browser is blocking more than 600 trackers in a single browsing session. That number alone should make you fear a browser like Chrome which doesn't come with any ad track blocking features.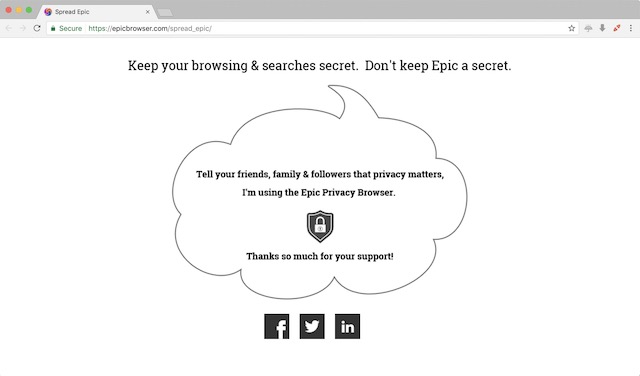 One of the biggest features of Epic is its one-click encryption tool which when activated hides your IP address and encrypts your browsing. The best part is that even DNS requests are routed through the encrypted proxy. This protects your browsing history from your ISP, your employer, your government, data collectors, and other network snoops. If you want to save yourself from all those pesky trackers which track you across websites and collect data on you, Epic Privacy Browser is just the right thing for you.
Compatibility: Windows, macOS
Download: Free
10. Chromium
Chromium is an open-source browser project that aims to build a safer, faster, and more stable way for all users to experience the web. If you have never heard of it before, you will be surprised to know that most of your favorite browsers are running on Chromium including Google Chrome and Opera. What differentiates Chromium from browsers like Google Chrome and Opera is the fact that it is an open-source project so potentially anyone can review its code. Chromium is also the go to browser for many of the Linux distributions as they only support open-source projects. Chromium browser is also more private than Chrome as it doesn't collect user data. That said, if you are using the extension store, you will giving some kind for information to the extensions' developers. Chromium is the best open-source Google Chrome alternative and you should try it out.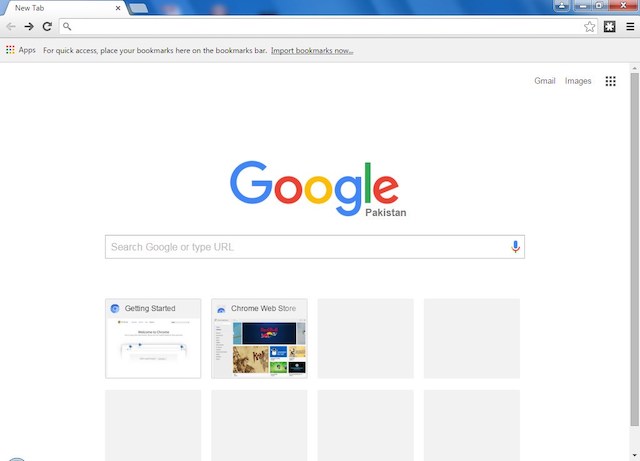 Compatibility: Windows, macOS, Linux, Android
Download: Free
Browse safely and anonymously with these Chrome alternatives
This brings us to the end of this list. All the browsers mentioned here are the best alternatives to Chrome in 2021. Be it the terms of speed, privacy, security, or ease of use. I'd recommend users to pick any of the above based on their requirements.
So feel free to try these options, and in case there is some other good browser like Google that deserves a place in this list of best Google Chrome alternatives, feel free to drop suggestions in the comment box below!
Best Chrome Alternatives FAQ
1. What is the best alternative to Google Chrome?
Brave browser is the best alternative to Google Chrome in 2021. Other considerable options for browsers other than Google Chrome are Firefox, Safari, Vivaldi, etc.
2. Why you should not use Google Chrome?
The biggest reasons to not use Google Chrome are privacy concerns and RAM hogging nature. Google tracks all your online activity via Chrome browser and bombards you with ads wherever you go on the internet. Plus it consumes more RAM than other browsers which makes your device sluggish.
3. Is Brave better than Chrome?
Brave is definitely better than Chrome if privacy is your biggest concern.
4. What is the difference between Google and Google Chrome?
The difference between Google and Google Chrome is that Google is a search engine that helps you find stuff on the internet. Whereas Google Chrome is a web browser which is basically an application where the results of your queries or a web page can be displayed.